In 1981, A.P.T. founder Peter Tsirakidis decided to offer something unique in the world of carpet sales. Having worked for large retailers, he decided to turn the simple transaction of purchasing a carpet into something more inspiring and educational for customers.
He understood that delivering value was about the process – listening to customer needs, answering their questions, explaining all of the available options – and ultimately guiding them to the most appropriate choice for their home.
As the company quickly gained a reputation for impeccable service and quality products, A.P.T. established itself as a leading carpet retailer for the booming communities in the North GTA.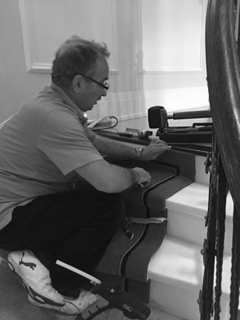 A.P.T.'s selection of quality products from top manufacturers reflects a broad range of carpets to suit every customer preference. Our custom options (including modifications for colour, size and quality grade and more) ensure every need can be accommodated. From area rugs, stair runners and a full range of wall-to-wall options, A.P.T. can provide the right carpet solution for any project big or small.
Our Products Include:
Today, A.P.T. is still family-owned and operated and focused on the principle of helping the customer make the most appropriate choice for their home. We pride ourselves in giving our customers the confidence to make a well-informed purchase that results in a product uniquely suited to their needs.
Through word-of-mouth referrals to family and friends and repeat business, A.P.T. continues to build its reputation as one of North Toronto's most trusted carpet retailers. A.P.T.'s customers come from all over the GTA, including the communities of Richmond Hill, Newmarket, Aurora, Markham, Stouffville, Thornhill, King City, Woodbridge, Maple, Kleinburg and beyond.
Helping customers find the best carpet for their home has been our priority and guiding principle for over 30 years.
During our showroom consultation, our goal is to provide you the opportunity to fully explore all of the carpet options relevant to your potential purchase. We strive to make this an enjoyable and educational process for both you and our consultants – we welcome all your questions and will ask questions of our own to acquire an understanding of your specific needs. We'll discuss patterns, fibres, colours and personal preferences – just to name a few of the factors we review with you in detail.
We follow-up with an in-home consultation that ensures all of elements of the space are taken into account. Everything from lighting, proximity to other carpeting and placement of furniture can influence the suitability of your carpeting choices. If you are purchasing stair-runners or wall-to-wall, we will discuss the installation details with you at this time.
Together, we will select a carpet or rug that is appropriate for your home. We will work with you until you are happy with your choice.
Schedule a time to come in and let us help you find the perfect carpet for your home. Please fill in the form and a consultant will respond as soon as possible.